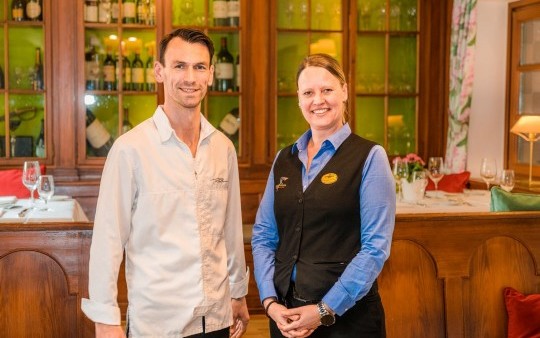 Tradition is at home here
Our head chef, Felix Kersten, serves authentic Palatinate country-style cuisine in a casual atmosphere and a tasteful, original ambience in the Sankt Urban restaurant.
Prepared from the best regional and seasonal ingredients and according to classic recipes, experience the culinary Palatinate from its best side and find out where good traditional cuisine is at home.
We would be happy to show you how far the culinary Palatinate goes beyond "Saumagen", which we made popular all over the world. Everything perfectly staged by our restaurant manager Raphaela Schubert, the deputy restaurant manager Marie-Therese Schwaab and their charming service team.
Restaurant, Wappenzimmer, Geißbockstube, Weinbibliothek, Schmankerlstube and Kaminzimmer radiate dignified hospitality. The terrace facing the historic market place invites you with cozy spots and Mediterranean charm.

Opening hours: daily from 12:00 a.m. till 22:30 p.m.
Rest day: Monday


Kitchen hours: daily from 12:00 a.m. till 14:00 p.m. and 18:00 p.m. till 21:00 p.m.
small menu 14:00 am till 18:00 pm